eShop / Our Tips
Collector`s Literature / Auction Catalogues
arrow_forward_ios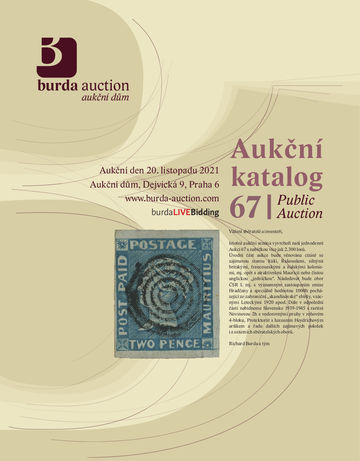 2021 BURDA AUCTION s.r.o., catalogue jednodenní Aukce 67, color, contains item/-s abroad, Czechoslovakia I., CZECHOSLOVAKIA 1945-92., Czech Republic, Slovakia etc..; big part items pictured, format smaller A4, contains final document Aukce 66

2018 THE CZECHOSLOVAK POSTAGE STAMPS 1918-1939 / RARITIES SELECTION - the first ever marketed monograph, providing a cross-section of rarities from the First Czechoslovak Republic provenience; all lots were offered and sold by Burda Auction, the leading auction house in the Czech Republic; top-class graphic design, all rarities include English description and realized prices; 180 full coloured pages.
Philately / Asia / Near East / Syria
arrow_forward_ios




1924 Maury 81d, 81e, Airmail No.8, issue "Merson" with Opt O.M.F. SYRIE, 60C Opt INVERTED and Opt DOUBLE, 1Fr AVION with normal Opt; perfect, cat. 430€
Philately / America and Caribbean / Caribbean / Bermuda
arrow_forward_ios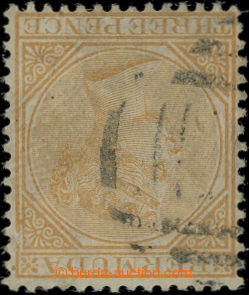 1865 SG.5aw, Victoria 3P "yellow - buff", wmk CC INVERTED; very fine, cat. £325
Philately / Africa / South and Central Africa / South Africa / Cape of Good Hope
arrow_forward_ios


1858-1864 SG.8, 8b, 21, Allegory 1Sh, 3 pcs - P.B. bright yellow-green and deep dark green + print De La Rue bright emerald-green; chosen pieces with full margins and light postmarks, 2x exp. Alcuri and Bühler, c.v.. £1.600, fine selection!
Philately / Asia / Southeast Asia / Trengganu
arrow_forward_ios


1938 SG.44, Suleiman $5 green / red; sought high face-value, c.v.. £650
Philately / Asia / Southeast Asia / Kedah
arrow_forward_ios


1937 SG.60-68, Sultan Hamid 10C - $5; complete set, very fine, c.v.. £300
Philately / Asia / Far East and CIS / Hong Kong
arrow_forward_ios


1938-1952 SG.140-162, George VI. Portraits 1C - $10; complete sought set, c.v.. £1.100
Philately / America and Caribbean / Caribbean / Turks and Caicos
arrow_forward_ios


1966 SG.264a, Churchill 8P, corner piece, GOLDEN DOUBLE PRINT (inscriptions); certificate BPA for original block-of-10, cat. £160 ++
Philately / Czech Republic / Stamps
arrow_forward_ios


2010
Pof.634 production flaw, 150. anniv of birth A. Mucha, value E - L half stmp booklet with sought production flaw - without pin hole, printing field 6; small light bend, cat. only as single stamps 18.000CZK
Philately / Asia / South Asia / Burma
arrow_forward_ios




1937 SG.O1-O14, Official George V. 3P - 10R with overprint SERVICE; complete rare set, only value 1As brown used, c.v.. £950, rare usage