eShop / Our Tips
Collector`s Literature / Auction Catalogues
arrow_forward_ios

2018 THE CZECHOSLOVAK POSTAGE STAMPS 1918-1939 / RARITIES SELECTION - the first ever marketed monograph, providing a cross-section of rarities from the First Czechoslovak Republic provenience; all lots were offered and sold by Burda Auction, the leading auction house in the Czech Republic; top-class graphic design, all rarities include English description and realized prices; 180 full coloured pages.
Other Collector`s Domains / Advertising Labels and Cards
arrow_forward_ios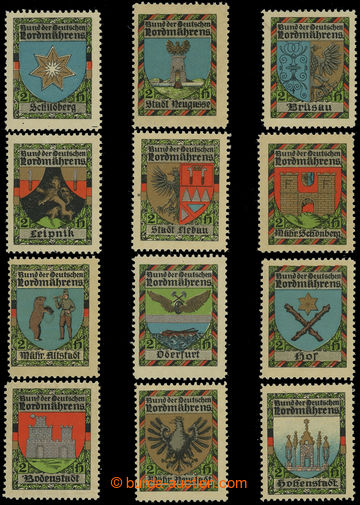 1905 AUSTRIA / "Bund der Deutschen (German) Nordmährens" comp. 12 pcs of various Surtax color varnished labels with coats of arms towns German severomoravského club/association as Leipnik, Mähr. Schönberg., town Neugasse, Hohenstadt, town Liebau, Oderfurt, Mähr Altstadt., Hof, Bodenstadt, Schildberg, Mähr. Neustadt, Brüsau, producer L.U. Endersche Kunstanstalt Neutitschein; mint never hinged with gum, decorative
Philately / Asia / Near East / Syria
arrow_forward_ios




1924 Maury 81d, 81e, Airmail No.8, issue "Merson" with Opt O.M.F. SYRIE, 60C Opt INVERTED and Opt DOUBLE, 1Fr AVION with normal Opt; perfect, cat. 430€
Philately / Czech Republic / Stamps
arrow_forward_ios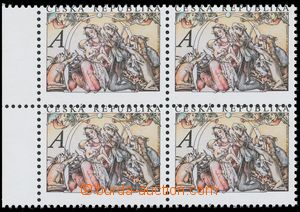 2011 Pof.707, Christmas, value A, production flaw shifted perforation downward to inscription as blk-of-4 with L margin, c.v.. Pofis 2.800CZK, Pěnkava 16.000CZK
Philately / America and Caribbean / Caribbean / Bermuda
arrow_forward_ios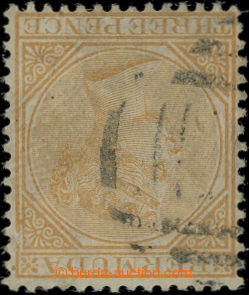 1865 SG.5aw, Victoria 3P "yellow - buff", wmk CC INVERTED; very fine, cat. £325
Philately / America and Caribbean / Caribbean / Turks and Caicos
arrow_forward_ios


1966 SG.264a, Churchill 8P, corner piece, GOLDEN DOUBLE PRINT (inscriptions); certificate BPA for original block-of-10, cat. £160 ++
Philately / Czech Republic / Stamps
arrow_forward_ios


2004
Pof.PL381, Lantern 9CZK, 2. variant (type II.), paper fl-šp, V125, Black Tower; c.v.. Pěnkava 12.000CZK
Philately / Czechoslovakia 1945-1992 / Postage stamps 1945-1953
arrow_forward_ios






1950 Pof.A564, miniature sheet Prague 1950, comp. 15 pcs of, all with CDS PRAGUE 1 / 10.V.53, types unresolved; all very fine with gum, c.v.. 3.000CZK
Philately / Czech Republic / Stamps
arrow_forward_ios


2010
Pof.634 production flaw, 150. anniv of birth A. Mucha, value E - L half stmp booklet with sought production flaw - without pin hole, printing field 6; small light bend, cat. only as single stamps 18.000CZK
Autographs / Writers, Poets and Journalists
arrow_forward_ios


1935
ČAPEK Charles (1890-1938), slavný Czech writer, journalist, dramatist, handwritten 8-řádkový (!) letter with whole signature, sent to profesora germanistiky Univerzity Charle's Dr. Huga Siebenscheina (1889-1971), very interesting text concerning maleb his bratra Joseph Čapek; perfect condition, rukopisy Karel Čapek are exceedingly rare!
Philately / Europe / Austria / Postal stationery
arrow_forward_ios




1820-1899 [COLLECTIONS] WIEN PARCEL POST collection of 78 larger parts of parcel cards and similar documents of parcel post with mounted or imprinted revenues of Kreuzer period with postmarks of all Viennese post, housed on free sheets with descriptions, contains several better entires as 7 pcs of freight letters for railroad with imprinted stamps, 1x larger part of dispatch-note with franking 6 stamps 12Kr, Mi.55, 1x dispatch-note with with perfin etc..
Philately / Europe / Austria / Forms
arrow_forward_ios




1851-80 [COLLECTIONS] larger collection of freight letters - Carriage note, contains i.a. 9 pcs with mounted revenue stamps 5 Kreuzer issues 1858 - 1870, also 40 letters and documents with various postmarks i.a. UHRZITZ / FRANCO in oval, OLMÜTZ line etc., all placed in spiral folder; mainly good condition
Philately / Philatelic Literature / Foreign
arrow_forward_ios


1968 GERMANY / Altdeutschland Spezial-Katalog and Guide, 4. issue, Hans Grobe, Hannover, 440 sides; very good condition