warning
This auction is archived, you cannot bid or buy items from this auction!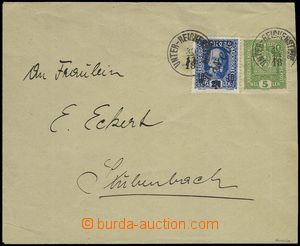 1918 letter franked with Austrian stmp 5h crown Mi.186 + 24/10h PORTO Mi.60 with oblique black overprint FRANCO, CDS Unter-Reichenstein 30.11.18, exp. by Kvasnicka.., good condition
U:A5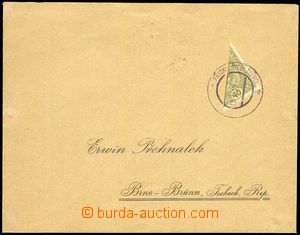 1919 response letter franked with. bisected stmp Mi.194, State Coat of Arms 40h olive, CDS PŘEDKLÁŠTEŘÍ 18.I.19, on reverse arrival BRNO 20/1/19, cat. Merkur-Revue 1500CZK, very good condition
U:A5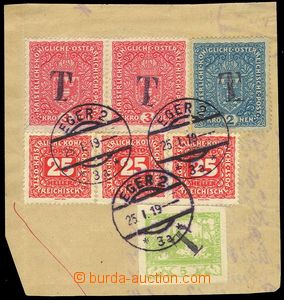 1919
cut square from accounting sheet with mixed franking provisory postage-due and parallel postage-due stamps, Austrian stamp. Coat of arms 3 Koruna 2x and 2 Koruna with overprint "T" + Austrian postage-due 25h Malé number + Hradčany 5h with overprint "T", quite rare franking!
U:A5
Public Auction 22 / Philately / Czechoslovakia 1918-1939 / Forerunners 1918-1919 - Information
28. 10. 1918 Předběžné a souběžné poštovní známky
Poštovní známky rakouského císařství a maďarského království, platné do 28. 10. 1918 na území budoucí Československé republiky, které po jejím vzniku nadále platily jako předběžné (od 28. 10. do 17. 12. 1918) respektive jako souběžné (od 18. 12. 1918 do 28. 2. 1919) československé poštovní známky.