warning
This auction is archived, you cannot bid or buy items from this auction!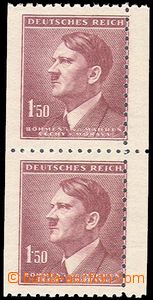 1942
Pof.86, Hitler, vertical pair, R shift vertical perf to picture of stmp, L imperforated, mint never hinged, on stmp BOHEMIA-MORAVIA rare
U:A5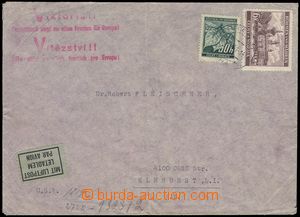 1941 air-mail letter addressed to to USA, with Pof.27, 46, CDS Prag 31/ 25.VI.41 + red four-line additional raz."Viktoria!", line censor's postmarks on reverse, in the middle 1x vert. fold, good condition
U:A5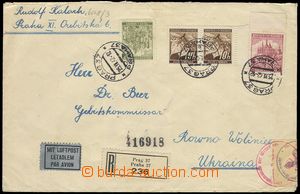 1942 air-mail Reg letter sent to Ukraine (!), with Pof.21 2x, 58, 61, CDS Prag 37/ 25.VII.42, German censorship, arrival postmark Rowno (Wolhynien)/ Deutsche Service Post (Dienstpost) Ukraine/ 31.7.42 on reverse, rare destination, well preserved
U:A5
Public Auction 22 / Philately / German occupation of Bohemia-Moravia / Issues 1939-1945 - Information
Výplatní emise
30.8. 1939 Lipové listy hlubotisk
Poštovní známky emise Lipové listy byly vydány v 8 hodnotách 5h - 50h. Autor návrhu A.Schaumann, tisk hlubotiskem HT. Přepážkové archy 10x10 nebo 2x 10x10 známkových polí spojených meziarším.
Data vydání jednotlivých hodnot: 5h až 30h - 30.8. 1939, 40h - 10.6. 1940, 50h - 20.12. 1940, 30h - 1.6. 1941
Platnost do 31.3. 1943
29.7. 1939 Krajiny, hrady a města I.vydání
Poštovní známky této emise byly vydány ve 13 hodnotách 40h až 20K. Autoři návrhů K. Vik, B. Heinz, J.C. Vondrouš a V. Silovský, rytiny K.Seizinger a B. Heinz. Tisk rotačním ocelotiskem OTr.
Data vydání jednotlivých hodnot: 50h, 60h a 1K - 29.7. 1939, 40h, 1K až 2K - 15.8. 1939, 5K až 20K 30.8. 1939, 3K (jedna DZ) - 4.11. 1939, 4K (jedna DZ) - 1.12. 1939, 3K (dvě DZ) a 4K (dvě DZ) - 20.11. 1940, 4K (tři DZ) - 1942
Platnost do 31.3. 1943