warning
This auction is archived, you cannot bid or buy items from this auction!

info
Online Auction 65
is currently running, you can find items like this there and bid on them!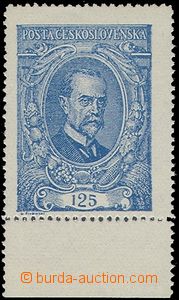 Pof.140a type I., 125h ultramarine, lower margin, exp. by Mrnak
U:A5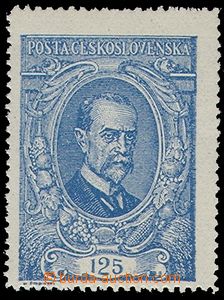 Pof.140a T II., 125h ultramarine, production flaw - smaller stain in hair, light off center, on reverse note by pencil., c.v.. 2500CZK
U:A5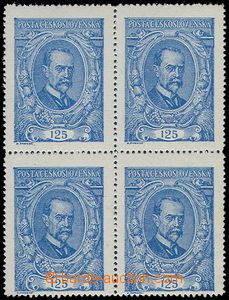 Pof.140a ST, 125h ultramarine, block of four with two joined types, crossways over stmp production flaw paper - wrinkle, c.v.. 10.000CZK
U:A5
Public Auction 22 / Philately / Czechoslovakia 1918-1939 / Masaryk Issue 1920 - Information
7.3.1920 70. narozeniny T. G. Masaryka
Poštovní známky emise TGM 1920 navrhl prof. Max Švabinský. Postupně byly vydány 3 poštovní známky s neobvykle vysokými nominálními hodnotami 125, 500 a 1000 haléřů s portrétem prezidenta. Hodnota 125 haléřů byla vytištěna na bílém papíru ve 2 barevných odstínech - modrá a ultramarínová, hodnoty 500 a 1000 haléřů na bílém křídovém papíru, hodnota 500 h v šedé barvě s šedomodrým podtiskem a 1000 h v hnědé barvě se světle hnědým podtiskem. Známky byly tištěny knihtiskem (KT), tisková forma (TF) pro poštovní známku 125 h byla 2x 100 známek, pro 500 h a 1000 h 1x 100 známek. Přepážkový arch (PA) u všech 3 hodnot byl 10x10 známkových polí (ZP), lep hladký, zoubkování řádkové 13¾.
Platnost poštovních známek emise 70. narozeniny T. G. Masaryka byla do 14.2. 1923.